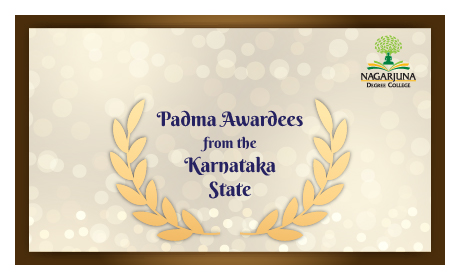 Padma Awards are the Civilian Awards presented by the Government of India to honour the
contributions made to bring in progress and development to the nation. These awards are categorized
into three levels i.e. Padma Vibushan, Padma Bhusan and Padma Shri. It's a great honour to present to
you the personalities from Karnataka who were honoured and acknowledged with these awards.
To be specific, these awards are not restrained to any specific field. These are acknowledgements
provided for the contribution or service done by the individuals and groups that benefit the nation and
aids in the process of development and progress.
Padma Vibhushan Award
a. Shri S M Krishna – He received this honorary award in the field of Public Affairs. He served
the nation as Chief Minister of Karnataka from the year 1999 to 2004 and as Governor of
Maharashtra from 2004 to 2008. In the year 2009, he started serving as Minister of External
Affairs of India till October 2012.
Padma Bhushan Award
a. Shri S L Bhyrappa – A well-known novelist and screenwriter born in the year 1931. He
received the respectful Padma Bhusan award for his works in the field of Literature and
Education. The themes of his novels revolve around ancient Indian literature and tradition
along with connection to human behaviour and emotions.
b. Ms Sudha Murty – A well-known philosopher, educator and indeed a people's person. She is
known to be one of the personalities who believe in making the change rather than waiting
for it. Therefore, her efforts at social work are acknowledged with the most honorary award
Padma Bhusan.
Padma Shri Award
a. Shri Khadar Valli Dudekula – Famously known as India's Millet Man. He is an independent
Scientist focusing on reviving five types of disappearing millets through a technique called
jungle farming. He has been acknowledged for his efforts in field of Science and Engineering.
b. Shri Nadoja Pindipapanahalli Munivenkatappa – A brilliant artist celebrated for his extra-
ordinary art of playing hand drum. He is popularly known as Tamate Master, he started
playing the instrument at the age of 16 ingraining the skill from his father.
c. Ms. Rani Machaiah – Popularly known as Ummathat ki Rani, Ms. Rani paved her way
through the traditional folk dance of Kodava District. Her aim is to preserve the traditional
folk dance of her region from the danger of extinction. Therefore her efforts have been
sincerely awarded with Padma Shri.
d. Shri Shah Rasheed Ahmed Quadri – A personality from Bidar known for the Bidri Art has
been honoured for preserving the art and culture of the region. Born in the year 1955 into
an artisan family, immersed in the art from a young age and later evolved into a perfect
artist.
e. Shri S Subbaraman – An Archaeologist honoured for his findings in Ajanta Caves to Halebid
Temple and Afghanistan's Bamiyan Buddha Statues. He is a Retired Superintending
Archaeological Chemist of Archaeological Survey of India and a resident of Mysuru.